His family just wants him to be happy.
It's Christmas in Cincinnati — all thanks to Brody Allen.
Five weeks ago, the 2-year-old boy was diagnosed with terminal brain cancer, and doctors gave him two months to live — so his family and neighbors decided to celebrate the holiday early.
His family decorated their home with lights and a tree, and to their surprise, their neighbors did the same, creating a Christmas in September for Brody. But it didn't stop there.
In addition to the decorations, people filled the Allen's box with Christmas cards and radio stations played holiday music in And on Sept. 23, 
hundreds of Cincinnati residents joined 
to put together a Christmas parade for the toddler, who had was rightfully donned the title of grand marshall.
"In his mind, it is just Christmas," said Brody's sister, McKenzie Allen. "He woke up one day and the Christmas tree was out. He doesn't know it isn't really Christmas. He is just enjoying it."
Brody's father, Todd Allen, told WCPO that Christmas is a big deal for his family.
"
We do Christmas big
," he said. "For us, it's about family time and those memories and traditions that you can't ever get back."
Six houses in Brody's Ohio neighborhood whipped out their Christmas decorations three months early and covered their yards with blow up decorations, snowmen, and lights in case he doesn't make it to Dec. 25.
One of the Allens' neighbors, Barbara Elliot, found out about Brody's condition when she offered his parents some diapers.
"I offered Ms. Allen some pull-ups that I had for my grandson who is not potty trained, and she said they weren't going to bother with potty training Brody, because he had cancer," Elliott, 74, told the New York Times. "It broke our heart. So I said to my husband, 'We got stuff, let's decorate!'"
The Cincinnati Bengals' running backs even wished Brody a Merry Christmas in a video Kyle Caskey shared on Facebook.
"Hey Brody!! We heard Santa was making a special trip to see you, so the Bengals Running Backs wanted to wish you a very Merry Christmas!! Who Dey, Brody!!!" Caskey captioned the video of Bengals Giovanni Bernard, Joe Mixon, Tra Carson, Mark Walton, Quinton Flowers, and himself.
The boy's family discovered he had cancer after he began complaining about being dizzy in May and was sent to Cincinnati Children's Hospital Medical Center for tests. The results showed Brody had four embryonal tumors with multilayered rosettes.
One on his lower spine, one intertwined with his brain stem and two behind his pons," McKenzie Allen said. "It is extremely rare. It doesn't respond to treatment very well."
The tumors, also referred to as C19MC-altered, affect the central nervous system, spread through cerebrospinal fluid pathways, and are almost always found in children under five years old, according to Cancer.gov. It is such a rare condition that only 300 people have been diagnosed.
Brody's father, Todd Allen, said it was "a very aggressive brain tumor that he had from birth and we had no idea."
"It was in him all along, just a part of who he is," he added.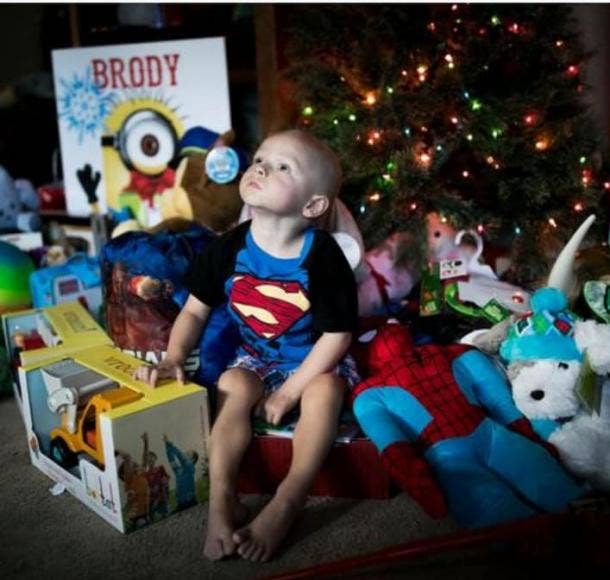 Brody was given the most aggressive form of chemotherapy possible but it was not effective. His family has spent the last few weeks trying to make him happy and comfortable and thanked the hospital for doing all they could for Brody.
"They tried to treat and it failed, but they gave us a family," Todd Allen said. "Those nurses and doctors loved on Brody like no one else. They are just part of our family."
When a fifth tumor was discovered, doctors gave the boy two months to live. His family has concentrated on living "day by day, moment by moment," Todd Allen told WCPO.
"He has no idea how sick he is," he wrote in a Facebook post. "He doesn't care. He just wants to have fun and enjoy every minute."
Although she is heartbroken her son may not make it to Christmas, Shilo Allen is glad he is getting to enjoy the holiday early. The family said that they plan to celebrate Christmas Eve on Sept. 24 and Christmas on Sept. 25. While they've appreciated all the support, Todd Allen said they're "ready for some quiet now."
"It's emotional because I know this will be his last," Shilo Allen told The New York Times. "It is really hard, but I love seeing the joy in his eyes. We did it to make him happy."